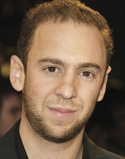 Fox is developing an untitled comedy project from "I Love You, Man" scribe John Hamburg.
Project comes out of a blind script deal Hamburg signed with 20th Century Fox TV this summer (Daily Variety, Aug. 10). 20th partnered Hamburg with Peter Chernin's production company, which is behind the show as well.
Laffer, written by Hamburg and fellow scribe Ian Helfer -- the two worked together on CBS' "Welcome to the Captain" – centers on an estranged father and son. Both become roommates after they get separate divorces.
Besides "Captain," Hamburg's past TV credits includes directing episodes of Fox's "Undeclared" and Comedy Central's "Stella."
In film, Hamburg wrote "Meet the Parents," "Zoolander," "Meet the Fockers" and "Along Came Polly," the latter of which he also directed.